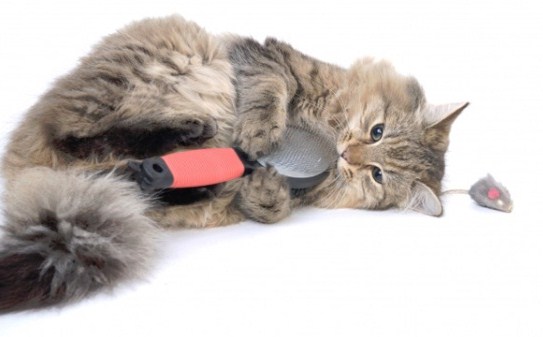 All cats require play, not only because it's so much fun but also because it offers many benefits such as exercise, entertainment, and companionship.  When it comes to senior cats, playtime has to be approached differently to accommodate them. Unlike younger cats, many older cats have health issues that may conflict with play but never the less older cats need playtime too.
Identify Any Health Issues
In order to know how to best accommodate your cat during play you must know what health issues he or she is dealing with first, which is why it's important to have regular visits with your vet. For example, felines dealing with heart failure cannot withstand a lot of play or exercise  For cats with arthritis, it may be painful to play but on the upside your vet can instruct you on how to play with your Whiskers that won't interfere with his health. You just have to bring these issues up to your vet.
 Toys
Its very important to find a toy that your cat enjoys, don't assume that your cat will like whatever toy you bring home. Figure out if your cat prefers stationary toys or one that can be pawed around the room. Another good toy is a brain teaser where you kitty must strategize to get a treat.  Like with kids, pets will get bored playing with the same toy after awhile. So make sure to change things up every few weeks.
Safety First
Keep playtime fun! If your cat is playing with a toy that has a string or wire attached, monitor her or him to avoid any injuries or choking on it. Make sure their isn't any small pieces that your cat can easily bite off or any plastic.
Finding The Time To Play
If working and other obligations don't really leave enough time in the day to play with your cat, Hiring a professional is always an option. Pros like us, NOLAs Finest Pet Care offers many services that include Feline playtime. Contact us for more information.